March 26th, 2012
April is just around the corner and for even the casual golf fan that means only one thing: The Masters is coming. It's not the oldest Major championship, and it may not have the deepest field, but The Masters is universally revered by pros and amateurs alike as their favorite. The Masters is loved in part, but only in part, because it's the first Major of the year. Far more important is the location of the event, Augusta National, and the unique traditions that have developed over the years since Clifford Roberts and Bobby Jones first decided to hold their invitational tournament in 1934. And the most identifiable part of Masters Tradition involves the yellow Masters flag and the ubiquitous green which one finds well, everywhere in Augusta during Masters Week. In anticipation of the tournament, Nike will release three limited addition items to commemorate the year's first Major.
[caption id="" align="alignleft" width="470" caption="Nike Limited Edition Lunar Control Golf Shoes 2012"]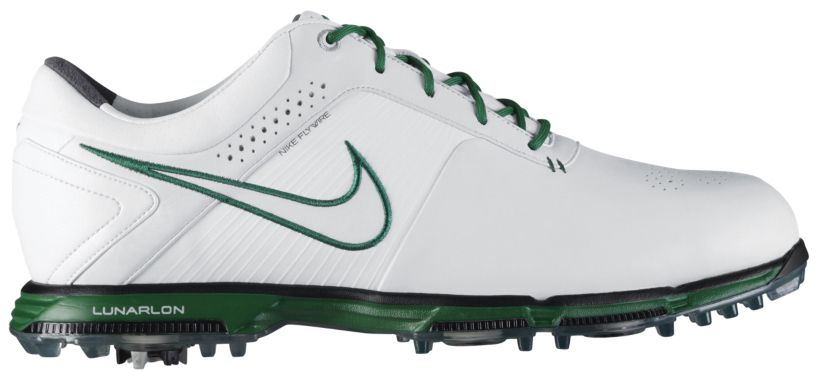 [/caption]
First, in the footwear category, Nike has designed and will have available April 2, the exclusive, Limited Edition Lunar Control, uniquely designed with green accents in very limited quantities. Like Augusta National, these shoes are simply gorgeous to look at, so you may be tempted to put them on display, alongside the cool leather and canvass shoe bag that comes with each pair. If you choose to wear them, you'll know why these shoes are favored by a number of Tour players, including Charl Schwartzel, who happened to win…oh yeah, The 2011 Masters. With Nike's Lunarlon cushioning system and stealthy Flywire construction combining for the ultimate in comfort and performance, look for Charl to be sporting a pair of Lunar Controls as he traverses the Augusta fairways.
When you tee it up you may want to use the Limited Edition Green Swoosh 20XI Golf Ball. This player's ball delivers faster initial velocity for maximum distance. And the green swoosh? Very cool. Save at least one for your golf ball collection.
[caption id="" align="alignright" width="353" caption="Nike Limited Edition Green & Yellow Method Concept Putter"]
[/caption]
Finally, Nike will also offer the Limited Edition Green & Yellow Method Concept Putter. If you need a reason beyond making putts like a pro to buy a putter, then check out the green blade and contrasting yellow body. Of course, this isn't just a showpiece putter, as it has the same technologically advanced design for which Nike is known, such as the lightweight aluminum face and high-mass steel body that combines for a perfectly-positioned center of gravity. With the Limited Edition Method Concept, Nike offers a putter that delivers the technology to make more putts in a package almost too pretty to use.
Each of these Nike, exclusively-designed, Limited Edition items will be available in limited quantities beginning Monday, April 2, 2012. Every Masters is special. Make this year's version your special event with the addition of the Nike Limited Edition Lunar Control Golf Shoes, 20XI Green Swoosh Golf Balls and Green & Yellow Method Concept Putter.
Prilosec